Welcome!
Czech Nationals 2022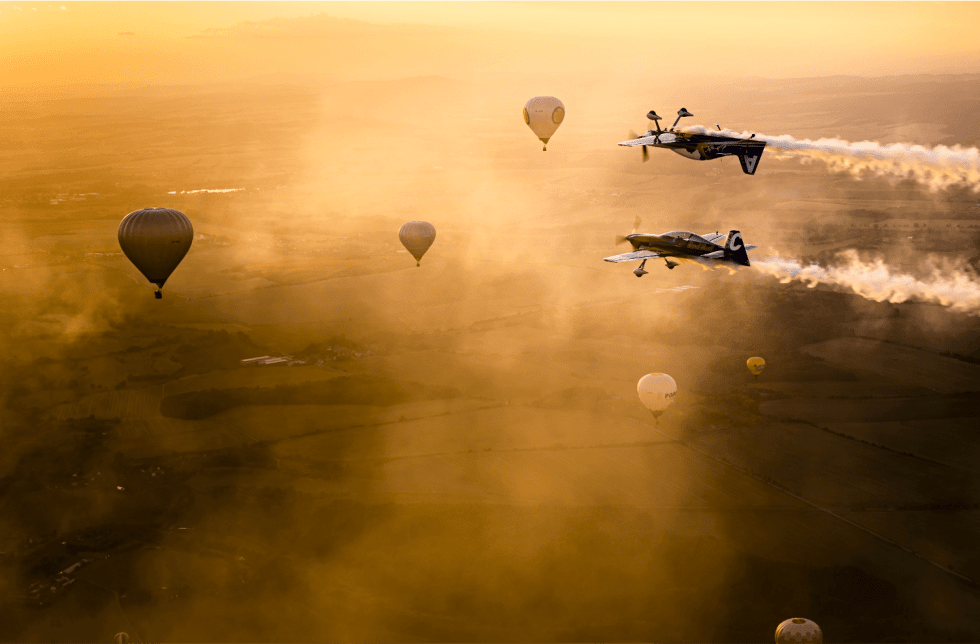 Registrations are open until June 30, 2022.
Online registration is required - register here. Registered pilots will asked to submit their documents online 1 month prior the event.
ENTRY FEE: 350 EUR + 200 EUR gas deposit = 550 EUR
Entry fee payment in CZK or EUR (multi-currency account):
| | |
| --- | --- |
| Account holder's name: | SKYBALLOON s.r.o. |
| Bank: | Raiffeisenbank a.s., Hvězdova 1716/2b, 140 78, Prague, Czech Republic |
| Account No.: | 4787725002/5500 |
| IBAN: | CZ0855000000004787725002 |
| BIC/SWIFT: | RZBCCZPP |
| Message: | Entry fee, pilot name |
Schedule
August 23

12:00 - 15:30
17:00
18:30

Check-in at the Competition Center (Airport)
General Briefing at the Competition Center
Opening Ceremony at the Competition Center

August 24-27
5:15
17:00
Flight Brieifing + Competition Flight
Flight Brieifing + Competition Flight
August 27

20:00

Dinner, Awards and Closing Ceremony at the Competition Center
Competition Center
Airport Jindrichuv Hradec is the Competition Center of the Czech Nationals.
Training Flights
Possible before the event. Please check the ICAO map and comply with all the relevant flight rules. No need to check-in for training flights - the organizer is not responsible for training flights.
Air space information:
Local FRQ: Hradec Radio - 123,605
The maximum altitude without a transponder is 5000 FT AMSL.
Refueling for training flights: individually at gas station RODVINOV. A refueling hose will be ready at Comp. Center from Sunday (REGO). Bring an adapter for TEMA's.
LPG Rodvinov: 49°10'43.234"N, 15°3'13.473"E, coordinates: 0396 / 4738
Opening hours of the station: Monday – Friday: 6:30 – 21:00, Saturday – Sunday: 7:30 – 21:00
The price for the gas is ~25 CZK/litre (~1 EUR/litre)
Competition Flights
NOTAM will be issued during the competition flights (August 23-27). We expect to get clearence for the Blue PZ up to 9 000 ft.
During the competition coordination with the Airport will be covered by the organizer.
Propane and Refuelling
First refuelling after the first competition flight, last refuelling before the last flight.
REGO use only, bring an adapter for TEMA. Rufuelling will be done cylinders-in-basket.
Refuelling will be every day after competition flights from 9:00 and 20:00. To make sure there was no change of time of refuelling - please check the official board.
Gloves are mandatory. Pay attention to the refuelling official personnel.
Cost: Propane will be billed separately, the price for the gas will be published in summer 2022.
With the entry fee we will collect 200 EUR as deposit. After each refuelling, a total gas bill will be displayed at the Official Noticeboard. Fiesta flights will be billed separately.
Communication
WhatsApp: We are planning to use WhatsApp to simplify the communication between the Director and the competitors.
Radios: VHF radio is required during all flights, there will be a special flight operation at Jindřichův Hradec airport.
Windreading
WindSond: WindSond online information before and during the flight for all pilots.
Accommodation
Accommodation is not included in Entry-fee. Every competitor has to make his reservation.
We can offer cheap accommodation at the student dorms of SVECOVA KOLEJ (4 min. by car from the airport). The price is about 450/per person/night (~18 EUR). The accommodation will be paid to the organizer. Spaces are limited - first come first served basis. You can inquire this accommodation in the event's registration form.
Other accommodation is paid directly to the hotels or guesthouses owners. For reservations, you can use Booking or Tourist Information Platform.
Please book your accommodation as soon as possible. The place of the competition is a popular tourist destination in summer. It will not be possible to book comfortable accommodation later.
Officials will be accommodated at a small guesthouse at the airport. There is no more space for the competitors.
Food
Breakfast will be prepared 30-40 minutes before each morning briefing (included in entry fee)
Brunch after the morning flight and Dinner before the evening flight is possible to order. Both meals include soup, main course, salad, dessert and soft drinks. We have a good feedback from the crews from the last championship and a good quality catering supplier.
Estimated price for brunch and dinner together is 30 EUR/day/person. You can inquire meals in the event's registration form.
Parking
Over-night surveilled designated parking area for balloon trailers at the airport.
Prizes
Our friends – pilots contribute to the organization of the competition with financial donations. We are preparing competition tasks for you, which will bear the names of the sponsors. The winner of such a discipline will receive a cup and a small cash bonus during the competition.
Fiesta registrace
Rádi bychom pozvali naše přátele a kolegy z řad pilotů a posádek balónů na malou fiestu organizovanou v souvislosti s Mistrovstvím republiky. Prosím piloty se zájmem o účast o vyplnění jednoduchého formuláře, zašleme vám pozvánku a další informace.